Reverse Logistic
X5company, aiming at strengthening the reverse logistics system, recycle (re-refine) the Used Lubricant Oil with quality and proper environmental destination, and according to CETESB requirements, participates in CETESB's Solid Waste Reverse Logistics Policy program. In cooperation with LWART, we offer the collection of ULO at a national level and especially in the State of São Paulo to X5 clients.
To learn more about this collection, please send an email to: relacionamento@x5company.com

Used or Contaminated Lubricating Oil (ULO) is classified as Class I Hazardous Waste (NBR-10004) and studies show that:

a) 1 liter of ULO contaminates 1 million liters of water;

b) burning the waste generates the emission of heavy metals (for every 10 liters 20 grams of metals are generated when burned – Cetesb); and,

c) burning this waste has the potential to cause severe diseases.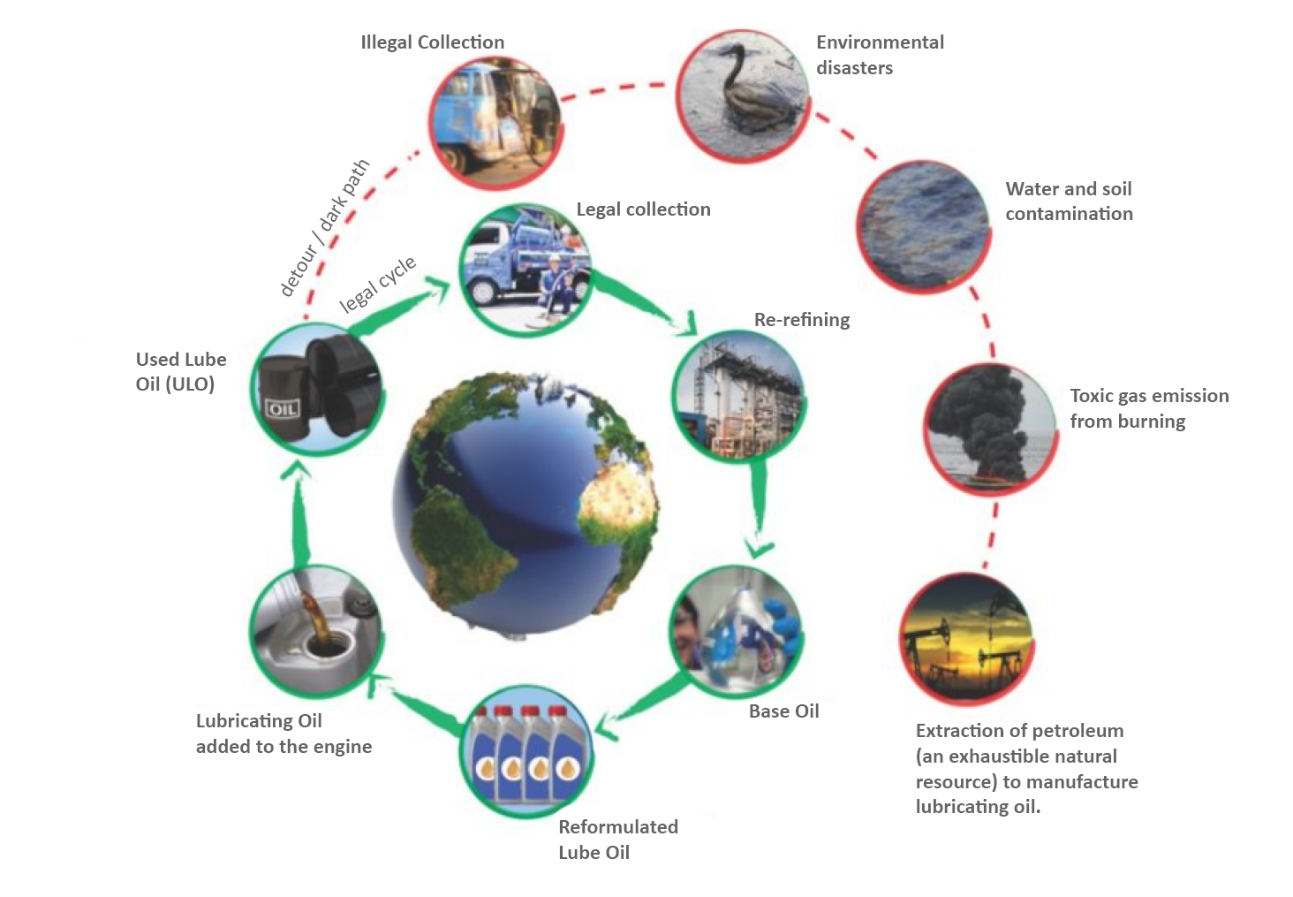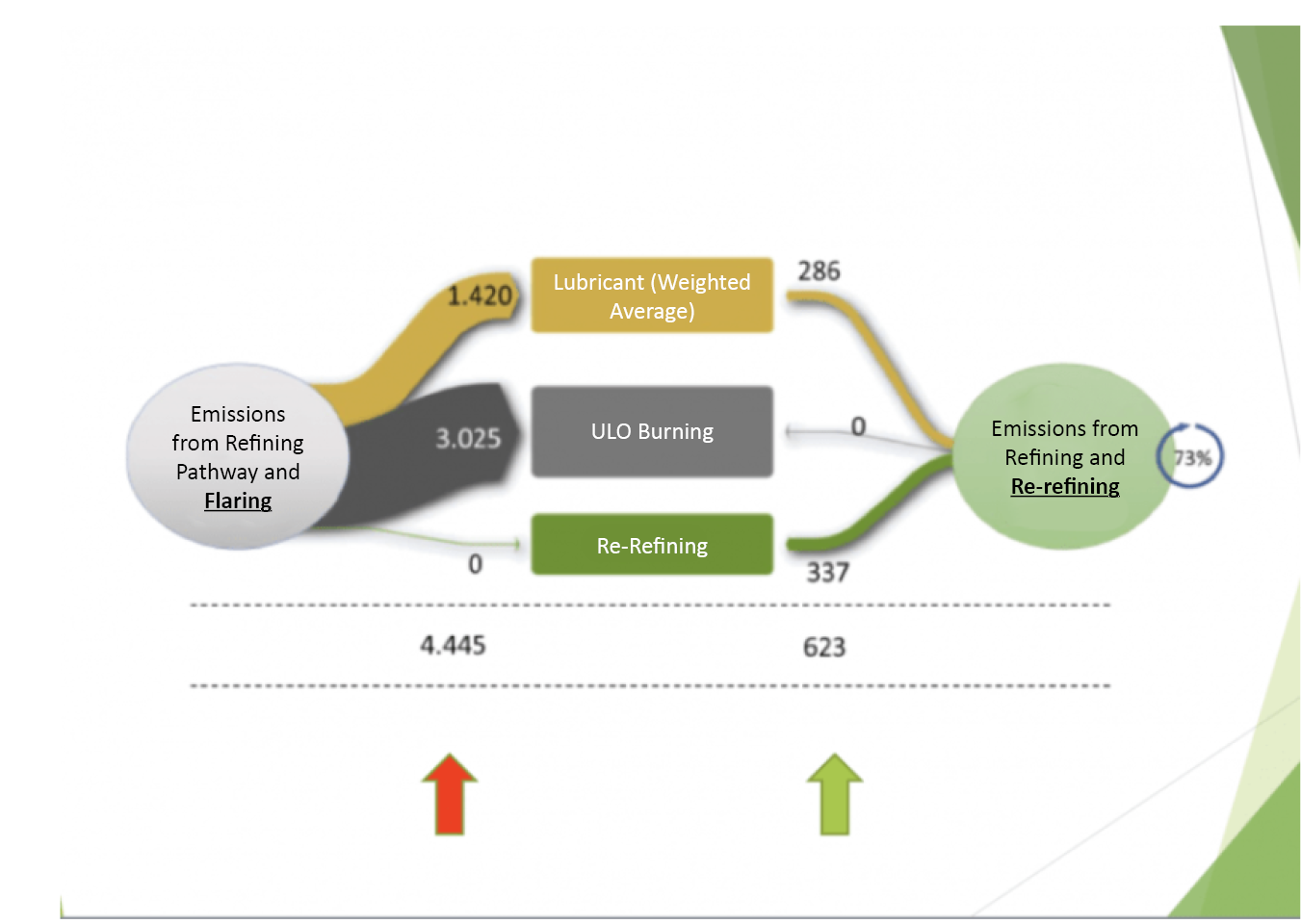 LCA – Life Cycle Analysis of used lubricating oil;
Comparative emissions of kg CO2 per ton;
Because of the hazardous nature of ULO and its economic importance to the industry, the current set of regulations for collection and re-refining of this waste is considered modern and successful as reverse logistics, and is even deemed an example by other countries.
The improper disposal of the waste, besides the financial impact with the loss of revenue of tens of millions of reais to the public funds, causes impacts to the environment and the human health.
When sent to re-refining, an environmentally appropriate destination, the ULO contaminants are removed and the oil is recovered with the same characteristics and properties as new base oils.
RE-REFINING
"Industrial process capable of removing contaminants from used lubricating oils, recovering the characteristics and properties of new base oils."
Legislation and Challenges
Brazilian National Agency of Petroleum, Natural Gas and Biofuels ("ANP") Resolutions No. 19/99 and 20/99, Conama Resolution No. 362/2005 and the National Policy on Solid Waste (Law 12,305/2010) provide that:
ULO is considered a Class I Hazardous Waste;
All ULO should be collected and sent for recycling through re-refining;
The combustion or incineration (burning) of waste for any purpose is expressly forbidden;
The National Agency of Petroleum, Natural Gas and Biofuels ("ANP") is the competent body to regulate and supervise the activities of collection, transportation and re-refining of used or contaminated oil;
The federal environmental agency is responsible for co-managing the system and penalizing noncompliance with established obligations;
The responsibility for the product is shared across its life cycle, extending the responsibility for the proper destination of the waste to the agents across the chain.
Considering the strong regulation on the activity, regulatory compliance is a challenge. Please find below a table with all the necessary authorizations for the transportation, storage and re-refining of ULO: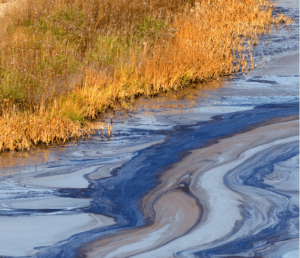 THE CHALLENGE OF COMPLIANCE WITH LEGISLATION
Transportation of Used Oil
1. Vehicle Registration and Licensing Certificate (CRLV)
2. Handling and Operation of Dangerous Goods (MOPP)
3. Certificate of Vehicle Inspection (CIV)
4. Certificate of Inspection for the Carriage of Dangerous Goods (CIPP)
5. Emergency Data Sheet
6. Emergency Response Plan (ERP)
7. Environmental Insurance
8. Interstate Transportation Authorization
9. Ibama's Federal Technical Registry (CTF)
10. State Transport License
11. ANVISA's Operating License
12. National Water Transport Agency for collection at ports
13. Symbology
14. Registration of Carriers of Dangerous Goods (CTPP, ANTT)
15. ANP's ULO Collection Authorization
Storage of Used Oil
1. Municipal License:
A. Operating
B. Habite-se
2. Fire Department Inspection Certificate
3. Authorization or exemption from Municipal Health Surveillance issued by ANVISA
4. Operating License (issued by the competent environmental agency), as well as protocols for the delivery of established conditions
5. Approval for the use of water, when necessary, i.e., when there is groundwater extraction
6. Permit from the Civil Police for the Use of Dangerous Goods
7. Agency of Petroleum, Natural Gas and Biofuels's (ANP) Permit
8. IBAMA's Federal Technical Registry
Re-refining
1. ANP's Production and Re-refining Permit
2. OEMA Operating License
3. IBAMA's Federal Technical Registry
4. Civil Police Licenses
5. Federal Police Licenses
6. Army Licenses
7. Municipal Operating License
8. ANVISA's Permit
9. Fire Department Inspection Certificate (AVCB)
10. Approval to Extract Water
11. Waste Management Plan